Fishing Charter Guides Marco Island &
The 10,000 Islands, Florida
There are plenty of opportunities for fishing on your own around Marco Island, but securing the services of one of our experienced local guides will give you the best shot for a memorable fishing experience. Whether your goal is to go offshore for grouper or back in the bays and creeks for snook or tarpon, the guide will put you where the fish are, will help you select the right live or artificial bait, and will coach you on techniques. You are welcome to bring your favorite rods and reels, but almost all of our guides have good quality, rigged tackle available for your use at no extra charge.
Call or write ahead to one of these guides to reserve your fishing trip. Note that many of them have specialties with respect to targeted species, fishing areas, and angling techniques.
---
TELEPHONE 239-643-1261 or 239-774-6765, Email captndaveh@comcast.net or gleclair6@comcast.net
Captain Dave Harding and Captain George LeClair are the most experienced backwater captains on The Isles of Capri. Enjoy unique fishing and the beauty of the 10,000 Islands without breaking the bank! Fly fishing and spin casting - 20 foot Carolina skiff, 16 foot Hewes Bayfisher and 24 foot pontoon boat to accommodate families for fishing, touring, shelling or any combination of these activities.

---

Located at Walker Coon Key Marina - East Palm Dr. Goodland, FL, TELEPHONE 239-393-0771 or Email captkoupa@aol.com
Fishing Charter & Guide Service Everglades, Naples, Marco & Ten Thousand Islands Florida - Capt. Bill Koupa offers ultra-light spin fishing and fly-fishing charter service within the Ten-Thousand Islands in South West Florida and the Gulf of Mexico. Fishing Backcountry of Marco Island, 10,000 Islands, to the Everglades National Park.

 

---

P O Box 777, Goodland, FL 34140, TELEPHONE 239-970-2105 FAX 239-417-1677 or Email captainjaybo@gmail.com
Captain Jay Peeler specializes in light tackle fishing in the backwaters of the 10,000 Islands. He has eleven years experience, is an Orvis endorsed guide and is licensed by the USCG. He can accommodate 1 to 4 anglers. For reservations or information call 239-970-2105 or Email captainjaybo@gmail.com

---

1458 Firwood Ct, Marco Island, FL 34145, TELEPHONE 239-394-0608, Email dawnpatrolcharters@compuserve.com.
Affordable, family-oriented, nearshore or backwater fishing. 26 ft. Pacemaker Center Console using all light tackle gear. USCG Licensed & Insured. Captain Bill Walsh.

 

---

P.O. Box 670 ~ Everglades City, Florida 34139, TELEPHONE 239-695-9107
Guided Kayak Fishing trips into the Everglades National Park, 10,000 Islands, and Chokoloskee and Big Cypress Preserve. We offer paddle-in trips where we launch from land and paddle directly to the fishing grounds, however, our most popular trip is our guided mother ship kayak fishing trips aboard the transport vessel the Yak Attack. On these mother ship trips, anglers, kayaks, tackle and gear are transported deep into the Parks core for a day's fishing. All long paddles are eliminated and we are back in time for dinner at a local restaurant. For More Information E-mail CaptWright@EvergladesAreaTours.com.

 

---

Chokoloskee, FL, TELEPHONE 239-695-4626 .
Enjoy the beauty and wildlife of the Everglades on a unique fishing trip through the 10,000 islands with a 4th generation native guide. Capt. Rodney Raffield will take you to places unknown by most. Captain Rodney Raffield ~ National Park Guide ~ Licensed & Insured. Backcountry Fishing ~ Backcountry Excursion
Email misslessie@chokoloskee.net

 

---

P O Box 397 ~ Chokoloskee, Florida 34138, TELEPHONE 239-695-0687 or 239-695-2700.
Captain Terry Shaughnessy -- Fish the Everglades for Trout, Pompano, Reds, Snook, and Tarpon. Shallow water, Light tackle or Fly rod. Fishing License, Rods, Reels, Bait and Ice are provided. Email fish@gofishguides.com

 

---

Located in the heart of downtown Naples, Florida at The Naples Bay Yacht Stowage off US 41 and River Point Drive.
TELEPHONE 239-290-0532 FAX 239-450-2140 oe Email: CaptEricA@aol.com
Captain Eric, Inc. offers exciting fishing trips for the novice to the most experienced Angler. Offshore and backwater fishing are available...customized at your request. Affordable rates include fishing license, ice, bait and tackle.

 

---

1079 Bald Eagle Drive #4, Marco Island FL 34145,
TELEPHONE 239-642-6400 FAX 239-642-4879 or Email fun@seaexcursions.com
Backwater fishing for up to 4 people with guide, Flyfishing for 1 or 2 people with guide, Off Shore fishing from 6 to 84 people per boat with captains. Private charter or party boats, available through Sea Excursions.

---

8674 Mustang Drive, Naples, FL 34113
TELEPHONE 239-774-6765 Email: gleclair6@comcast.net
2 Types of Trips. A 16 foot Hewes Bayfisher named the MUDWALKER designed to fish the shallow waters of the backcountry with 2 people and the guide. A 24 Foot Pontoon boat named the WATERWALKER designed to carry 6 people in comfort. Fish the near coastal waters and tour the inland waters of Marco Island and Naples.

---

Located Next to Stan's Idle Hour Restaurant in Goodland
TELEPHONE 239-642-4333 or 239-250-0625
Email: peglegchartersone@comcast.net
Captain Ron has been a local fishing guide since 1976. We fish near shore and off shore with 1/2, 3/4 and full day trips. The boat is a 30' Island Hopper with 12' beam and has a head onboard for the ladies. We can carry up to 10 passengers. All licenses, tackle, bait and ice are furnished.

---

P O Box 1255, Marco Island FL 34146, TELEPHONE/FAX 239-389-1575,
or Email info@sixchutercharters.com
Sport Fishing the waters from Naples, Marco Island, the Ten Thousand Islands and into the Gulf of Mexico with Florida native Captain Shaun Chute. Six Chuter Charters is located on Marco Island within minutes of Naples and Southwest Florida. We guarantee your boat will catch fish. Professional, local, experienced guides.

 

---

Trips depart from Casa Marina at the Goodland Bridge, Marco River Marina and Cedar Bay Marina Marco Island, Phone: 239-642-7310 or 239-642-0657 or Email: info@seagonefishing.com
Come and join Sea Gone Fishing Team for the great fishing that Southwest Florida has to offer. Fish the aqua water of the Gulf or go backwater among the mangroves. Try your hand at redfish, snook, grouper, trout, tarpon, permit, or sharks. Whether your an avid fisherman or a novice, our experienced U.S. Coast Guard licensed Captains make it their business to make your charter a memorable one. We also offer sightseeing and shelling.

---

951 Bald Eagle Drive (Marco River Marina) - Marco Island, FL, TELEPHONE 239-394-4966 ~ MOBILE: 239-821-7054 or Email wildthingcharters@comcast.net
Captain Randy Hamilton invites you to Marco Island Florida to join him for a fishing expedition! Coastal and Offshore Fishing. Wild Thing sails from the Marco River Marina at 951 Bald Eagle Drive.
---
---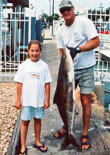 Wild Thing Charters
951 Bald Eagle Drive (Marco River Marina) - Marco Island, FL, TELEPHONE 239-394-4966 ~ MOBILE: 239-821-7054 or Email wildthingcharters@comcast.net
Captain Randy Hamilton invites you to Marco Island Florida to join him for a fishing expedition! Coastal and Offshore Fishing. Wild Thing sails from the Marco River Marina at 951 Bald Eagle Drive.
Don't Hesitate to contact us
Marco Scola 239-293-0970
Give us a chance and we will show you the difference